CRIBIS D&B awards the "CRIBIS D&B RATING 1" to MONDIAL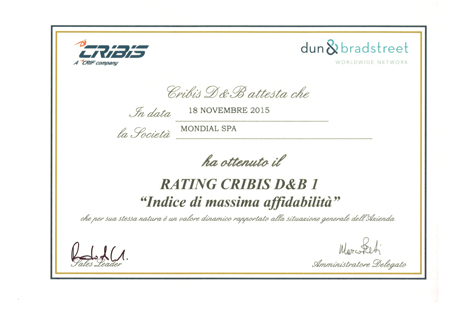 CRIBIS D&B, specialized in the provision of business information about Italian and international companies, has awarded the D&B Rating 1 to MONDIAL, recognizing the company at the highest level of reliability as a partner in a B2B commercial transaction.
CRIBIS D&B is part of CRIF Spa Group. It provides the wider information assets about Italian companies and their payment experiences and, thanks to its inclusion into D&B Worldwide Network, also about more than 230 million of worldwide companies.
The CRIBIS D&B Rating 1 is a high-value recognition, assigned each year only to 6% out of more than 5 million Italian companies. It is a synthetic indicator which, through a statistical algorithm, measures the likelihood for a company to generate serious outstanding debts. Several variables are used for the calculation, including demographic information, financial ratios and balance sheet data, payment experiences and the presence of negative events.
The "CRIBIS D&B Rating 1" certification is the highest level of evaluation of a company's commercial reliability. It is assigned only to those businesses that constantly maintain high financial and economic reliability, being virtuous in their payments to suppliers.